While many of the players from Oklahoma and Florida were preparing for their matchup to decide who will be crowned BCS Champion, they couldn't help but take notice of what Utah did against Alabama in the Sugar Bowl last night.
Utah, which is the only undefeated team in the nation, knocked off the SEC runner-up 31-17, a wider margin than what the Gators did in the SEC Championship (31-20).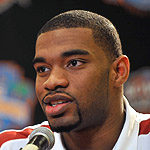 So does Utah deserve a share of the national championship?
"When they play big teams every week, maybe we can talk," said Florida safety Ahmad Black. "Not to take anything away from them, but their strength of schedule isn't up to par."
Despite beating four Top 25 teams throughout the season, including Oregon State, which was the only team to beat USC, the Utes SOS is ranked No. 57 according to CBSSports.com, while the Gators' is ranked No. 3. Oklahoma's is No. 1.
"Utah played their butt off and very hard against a great Alabama team. They were the better team that night," said Oklahoma tight end Jermaine Gresham. "I know they are undefeated and that's great, but we have to just roll with it."
How about one more game? Utah vs. the winner of Oklahoma vs. Florida.
"I don't mind a playoff," added Gresham. "I prefer it to this system. The problem is the teams that win now, they think they are the best. If we go to a playoff we can see. I think that would be right."
Stoops and Broncos
Oklahoma head coach Bob Stoops' name has come up as the NFL's Denver Broncos seach for a new coach, but that's news to Stoops.
"What situation? That's a rumor that I have not heard and no one has contacted me about that so I don't know anything about it," said Stoops. "We're preparing for a national championship and that's all my focus and all my concentration's on so obviously I'm not a candidate."
It's not the first time Stoops' name has come up for a NFL coaching job. The coach with a 109-23 overall record in ten seasons as Oklahoma, including 32-12 vs. ranked opponents, had his name come up for the Dallas Cowboys job in 2007 and the Kansas City Chiefs job in 2006.
Murray = Bush
Oklahoma will be without do-it-all sophomore DeMarco Murray, who is out after having surgery to repair a hamstring injury.
Murray finished the season with 1,002 yards rushing, while also averaging 27.6 yards on kick returns and scoring 18 total touchdowns. Chris Brown, who leads the team with 1,110 yards rushing and 20 touchdowns, gave Murray quite the compliment during Saturday's press conference.
"Whenever you look at us, DeMarco is like a Reggie Bush-type of runner, and I'll be the LenDale White," said Brown. "He can catch out the backfield like Bush and turn something small into a huge play. I'm more conservative and wait for things to develop."
Tickets, please
While Oklahoma has no players from South Florida (Dade, Broward and Palm Beach Counties), the Gators have plenty.
Florida has 17 players from the tri-county area, including safety Major White (Miramar/St. Thomas Aquinas), who was an honorable mention All-American.
"As soon as the game was over against Alabama, I got calls from people saying 'Can you get me this? Can you get me that?' I only get six tickets so I was only thinking about that."