Virginia Tech and the rest of the past ACC Champions haven't enjoyed trips to Miami recently.
Florida State lost to Penn State in 2006, Wake Forest fell to Louisville in 2007 and the Hokies lost to Kansas last year.
Who knew the formula to success was a couple of freshmen?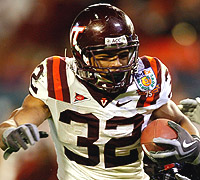 Running back Darren Evans provided the spark on offense, while linebacker Barquell Rivers came up with the biggest play of his career midway through the fourth quarter to lift the Hokies to their first BCS bowl win, ending a three-game Orange Bowl losing streak by ACC Champions.
"Well, you know, if you can read, you knew what our record was, and we've been a part of that," said Virginia Tech coach Frank Beamer. "I felt like we let the ACC down a couple times ourselves. We got on a bad streak here lately, and it's time to get off of it."
Evans, who has been magnificent for the Hokies all season, ran for 153 yards on 28 carries, including a fourth-quarter touchdown to put the Hokies up by two scores. Throughout the game Evans had numerous big runs, looking more like a seasoned veteran as he wore down the Cincinnati defense.
"At this point of the season, we don't consider ourselves young," Evans said. "We had some tough games and everybody's played a little bit. You have to swallow that notion about being young and just go out and play."
Evans grew throughout the season and got stronger, rushing for 253 yards against Maryland, 111 against Duke and 114 against Boston College in the ACC title game.
And tonight he put together not only hard runs of 3 and 4 yards, but also big runs of 11, 13 and 32 yards.
"I've got to give props to the offensive line because they made a lot of holes out there. It was just kind of for me to take those extra yards."
While Evans can celebrate with his MVP trophy, Rivers made one of the game's biggest defensive plays.
And that's saying something, considering the Hokies recorded four interceptions.
With the Bearcats trailing by 13 points and eight minutes to play, they had no choice but to go for it on 4th-and-goal from the 1. Tony Pike tried to score on a QB keeper, but Rivers drilled him, stopping him in his tracks and giving the ball to the Hokies offense.
Rivers, who had only seen limited action as a reserve, earned the starting job in the OB in place of Brett Warren.
"When a player goes down, you got to step up and play big and that's what I did," said Rivers. "I didn't have to make all the plays, but I made that one play and that was a key play in the game."
From there Evans and quarterback Tyrod Taylor ran more than five minutes off the clock, basically sealing the win for the Hokies.
Virginia Tech will use its freshman duo to its advantage next year, as it is expected to return 18 of the 22 starters on offense and defense from tonight.
"We do have alot of these guys coming back," added Beamer. "We've got some good runs we're redshirting, but there's no guarantees in this business. You've got to get down to it, but I do feel like we've got a lot of good players in our program and a lot of them are young."